Sales Features AuroCRM Offers
Monitor your Sales Progress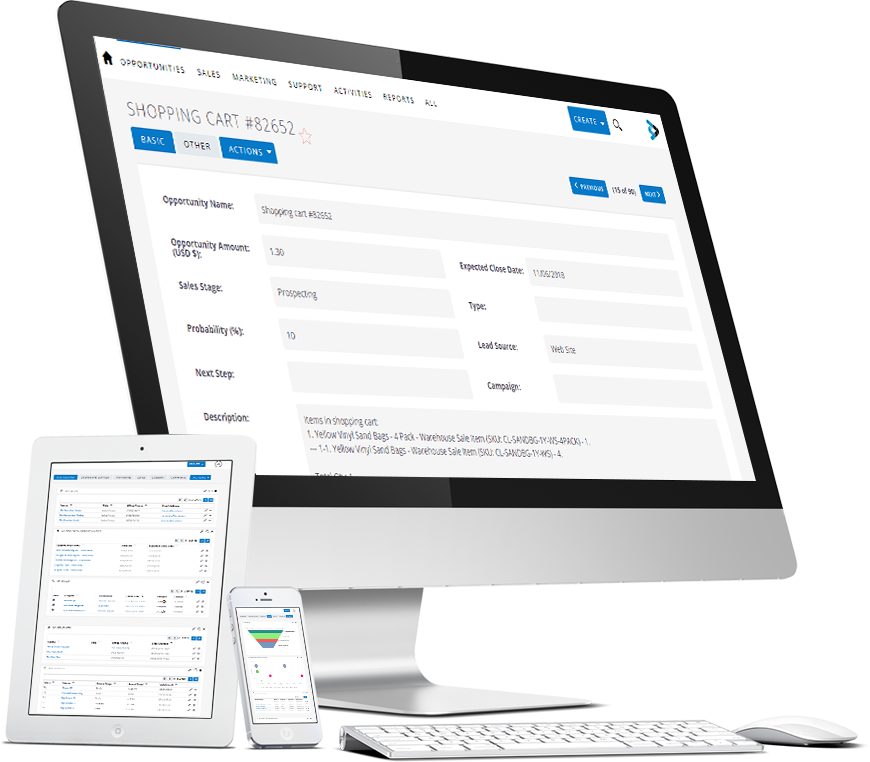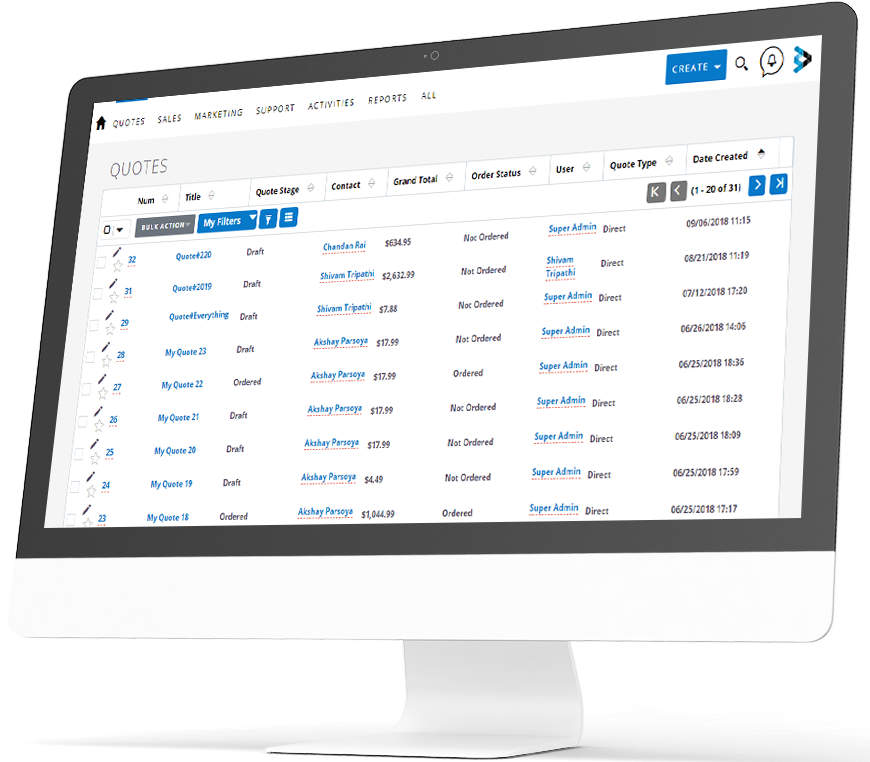 Integration with Magento Sales CRM Features
Auto Generation of Quote
If a cart abandon on website then quote auto generated on CRM
Optimization of Lead Generation, Sales, and Marketing
Identify customers that are most likely to convert. Optimize your sales process by prioritizing customers and customer segments.
Give Discounts, mark shipping charges
You can give discounts and mark shipping charges in your quotes as well, it will be auto added in product total cost during purchase on website.
A more Personalized Customer Experience on Magento Store
Understanding and knowing your customers is the pillar that keeps your eCommerce store afloat and integrating a CRM solution with your Magento fortifies this pillar for maximum support.
Purchase on behalf of customers
With integration of Magento You can directly purchase the products on behalf of your customers from CRM itself. You'll redirect to website shopping cart page with auto customer login from where you can purchase the products
Integration with Other Platforms
We can also integrate CRM with SAP, Google apps and ODOO ERP
Value Added Sales CRM Features
Create task and assign to your sales rep
You can create a task of meeting scheduled or any other activity and assign to sales rep who will den follow-up for it
Monitor assigned tasks
You can track what tasks are done and pending assigned to sales rep
Schedule Meetings and send Email to customer
Send Email, Schedule meeting, Invite unlimited users in meeting and Receive meeting reminders
Take Notes
Take notes of each meeting done.
Track invalid email id's
FAQ'S
What is the best sales CRM software?
A good CRM software enables workflow automation, third party integrations, real time analysis and customer interactions, all in one place. A preferred choice in the market, AuroCRM offers customizable solutions to enhance your customer experience.
What is sales CRM software?
Customer relationship management involves interactions with existing and potential customers throughout their journey. A sales CRM software like AuroCRM organizes the process to improve reach, increase sales, enhance customer service and strengthen customer relationships.
What is the best CRM for sales?
AuroCRM is preferred by retailers and entrepreneurs alike as it is a comprehensive and customizable software for all sales and customer service needs. It offers support for all marketing and sales endeavors including analytics. You can manage all tasks related to promotional activities, sales, and customer service through a single platform.
Why is CRM important in sales?
The sales process is not limited to the selling of goods and services. It involves pitching customers and multiple interactions with them during and after the sale. An effective tool like AuroCRM enables you to organize customer information, manage sales pipeline, and improve customer satisfaction, thus enhancing growth prospects.
How do I get a sales report with CRM?
Timely reports on sales related activities allows tracking and helps crucial decision making. With AuroCRM, generate detailed sales activity reports using helpful metrics, organize them, share it in multiple formats and utilize them to power critical decision making.
How does CRM help sales?
Sales translates to networking, innumerable contacts, scheduling pitches and follow ups. AuroCRM acts as a single source for all customer information. Manage contacts, schedule meetings, track progress, and improve sales performance in a cost-effective way with AuroCRM.
What does CRM mean in sales?
CRM stands for customer relationship management. It is a system that uses automation to help sales representatives track leads, pursue them, analyze progress and achieve their sales targets in a streamlined and timely manner.
How sales CRM can help your business?
The goal of sales CRM is to drive sales, improve customer service and increase customer retention. With AuroCRM automate your sales and customer support tasks to build strong customer relationships, reduce costs and promote business growth.
Try free for 30 days
Start your free trial and receive full access to everything on our website.