Unmatched customer experience is the result of a well-planned customer engagement strategy. Needless to say, the customer 360-degree view has become an indispensable feature when planning such strategies.
But here's something that's shockingly true.
Fewer than 10% of companies have a 360-degree customer view & only 5% use this view to systemically grow their businesses – Gartner
The remaining 90% of companies lag behind in terms of conversions and might vanish from their niche someday. Using an effective CRM system is the key if you don't want your business to meet such a terrible end.
Most importantly, the CRM system should have an in-built capability to offer a 360-degree view of your customers. If it doesn't, you can incorporate the same using an external plugin.
Brainvire, a Digital Enabler, and owner of the popular AI-driven CRM engine Auro CRM, recently rolled out the Customer 360 view plugin for the Suite CRM community. SuiteCRM is an open-source, flexible CRM platform that has changed the way retailers interact with their customers. With over 107,187 community members and 910,000 downloads, this is the most preferred CRM solution for eCommerce.  
Through this blog, we'll tell you the features of this plugin and strive to make your relationship with customers experiential rather than transactional.
Why the 'Customer 360 View' Plugin Was Ideated?
As I emphasized earlier, you need to plan out your interaction with customers to give them the experience that they deserve. But this cannot be done straight away. 
To obtain a comprehensive view of customers, you need to leverage data from various touchpoints in a customer's journey. Thus, achieving a 360-degree view requires all hands on deck. As a company, you must first commit to developing customer-facing teams and start tracking structured and unstructured data. Then everyone from marketing to sales to customer service has a stake in capturing, analyzing, and responding to the data. Sounds good, right?
With a customer 360 view plugin, you can do all the things mentioned above easily on the SuiteCRM Contacts page. Moreover, it can be readily integrated with Auro CRM, which is based on SuiteCRM's architecture, and also with other CRM systems.
Striking Features of 'Customer 360 View' Plugin
I have divided the plugin into three parts so that you can understand everything easily. These are the main header, customer journey tab, and more information tab.
Let's dive deep into each of them.
Main Dashboard


This is what the header of the plugin looks like. At first glance itself, you get most of the details of your customer interaction. All the default modules of SuiteCRM have been covered in it. This is especially helpful if you own an eCommerce store that runs on Magento or WooCommerce. You get unlimited visibility into your customers' shopping behavior and how they have benefitted you. 
There is a customized activity panel of SuiteCRM that has filter options. For example, when you click on scheduled calls, it will scroll down and open the activity panel with the filter option.

The CRM experts at Brainvire have also implemented a Google Map view on billing and shipping related information as shown below.
Customer Journey

True to its name, this tab offers a complete glimpse of all customer-centric activities. Take a look at the screenshot below.


Now, this is not just an overview but you also get a step-by-step breakdown of each of the activities. When you click on + sign then you get to see more details of that activity. Also, when you click on the "View all changes" button on the right side then it will redirect to the changelog page on a separate tab. The image below depicts this in action.
More Information
This tab consists of eCommerce functionality that offers better visibility into your sales activities when coupled with our Magento Bridge plugin. For instance, you can see the number of store visits in this section below. 


We have also provided multiple APIs that will allow you to visualize key metrics for your online stores such as order history, abandoned carts, best action products, and much more.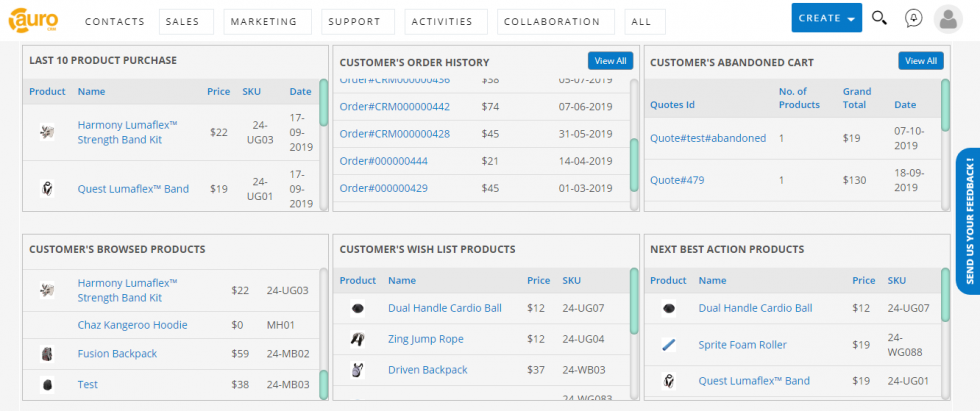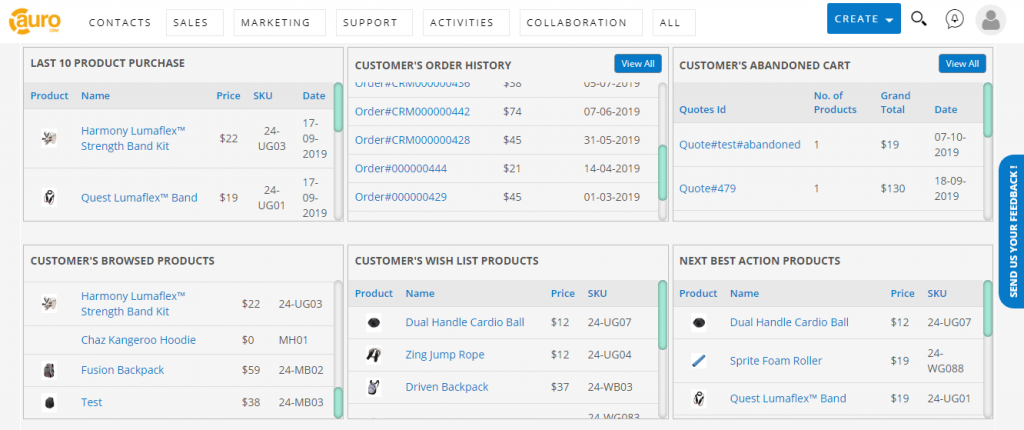 Last but not least, below is a snapshot of the admin settings page. Clicking on it will open the settings page and you can see all the sections that are related to Magento functionalities. You can enable or disable the sections according to your needs.

A Final Word
Customer 360 view plugin is an excellent tool to gather real-time intelligence about your customers and align with their goals. You can discover everything about your customers starting from their first interaction with you to the average revenue generated by each of them. Furthermore, you can improve each interaction with your customers and nurture long-term professional relationships with them. So install this amazing plugin today if you haven't yet.