Americans check their various social media accounts an average of 17 times a day.
The number of social media users worldwide in 2018 is 3.196 billion, up 13 percent year-on-year
In 2019, it is estimated that there will be around 2.77 billion social network users around the globe, up from 2.46 billion in 2017.
So, aren't these numbers mind-boggling?
Needless to say, social media has occupied an important place in our lives.
Thus, social media marketing forms the core of any major firm's marketing strategy, and especially if it's an e-commerce business.
And when such strategies are coupled with the right CRM solution, then it can work wonders for your retail business. Hence the title of this blog!
Before proceeding with the article, let me give you a brief idea of what you will take home at the end.
Basically, I will outline four of the best social media marketing strategies that are widely used today, and how CRM software can play a supporting yet crucial role while implementing such strategies.
So, here is the index of this post –
Effective Engagement with Target Audience
Business Intelligence
Attract & Capture New Leads
Enhance your Social Advertising Strategies
Let's get started!
1. Effective Engagement with Target Audience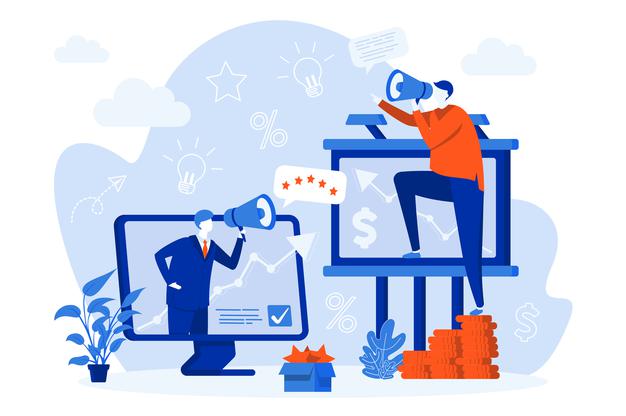 The stats mentioned at the beginning of this post clearly highlight the importance of social media engagement to enhance your brand presence.
Also, here are 4 global statistics that I obtained from Simplify360.com which will give you a better idea of social media's importance in building an effective CRM strategy for any e-commerce business:
33% of customers prefer to contact brands through social media channels as opposed to using the phone and waiting for a human to answer their questions – Nielsen
Nearly 70% of consumers have previously used social media for customer service-related issues on at least one or more occasions. – Gartner, Inc.
Research has found that poor response times or lack of responses can lead to as much as a 15% increase in customer churn. — Gartner, Inc.
Over 75% of adults say that valuing their time is the most important thing a company can do to provide good service. – Forrester
Social media indeed opens multiple doors of conversation with your target audience, which help in understanding their shopping intentions and pain points more clearly.
For example, people's product-specific comments can help you troubleshoot their problems, and also link such aspects with your CRM software to enable customer care executives offer better solutions to customer's problems.
Moreover, integrating your social feed with your customer service tools creates a line of fast, efficient communication between company and customer, enabling more responsive customer service. This also leads to proactive service, where you can provide solutions to customer problems before they even contact you, simply by observing their online behaviour.
2. Business Intelligence 
Business Intelligence, or BI, is a powerful tool that should be used to explore your venture's hidden potentials. The modern CRM tools come pre-built with intuitive dashboard functionalities that offer a detailed overview of various KPIs like Total Conversions, Year/ Month Dynamic Comparison, Revenue Reports, Customers Churn, etc.
Here is a snapshot of Auro CRM's dashboard functionality and the insights that it can provide you with: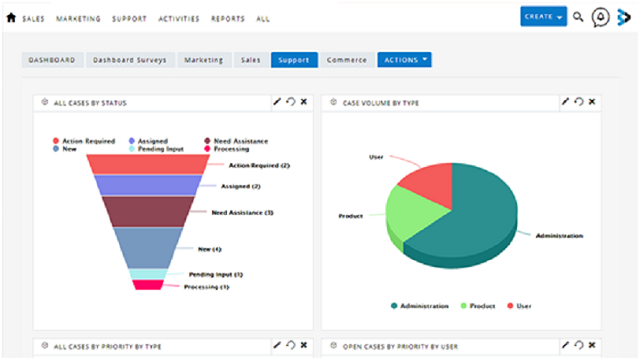 Now, the data collected or generated through social media platforms can be used to refine your content strategies and campaigns.
Likes, re-tweets, shares and the reach of your product can be tracked and used to your advantage.
3. Attract & Capture New Leads
Social media is your best bet to attract leads that are a part of your sales funnel, and ultimately convert them into long-term customers.
For example, exclusive plug-ins and extensions can be developed that automatically captures the potential customer's contact details with a single click and redirects it to your CRM database. Thus, the need to manually copy the data is eliminated.
4. Enhance your Social Advertising Strategies
Creating audience personas with the help of data collected by your CRM software can go a long way in developing customized advertising strategies.
Based on customer's past purchases, an accurate prediction of their next purchase can be made easily.
New product launches can be highlighted on your social media handle, backed up with an email/SMS marketing campaign.
So, as you can see, CRM helps you out with your social media engagement plans with a systematic approach towards your marketing strategies.
If you want to jot down the take-home message of this article, then it would be – "Embracing a CRM software that is integrated with social media is something that you should NOT delay any further."
And, BIG journeys BEGIN with SMALL steps!
Connect with our CRM Consultant today to know more about Auro CRM's social media integration features.
About Auro CRM –
AuroCRM is a CRM solution that can be customized and deployed according to the business models of the clients. With in-built integration to social media and various other 3rd-party apps, it is powered by multiple workflow automation tools that can simplify the crucial tasks for an E-Commerce business. The icing on the cake is that it is the world's first free open source CRM with no fees, no subscriptions, and unlimited user access.
Also Read: What is CRM?