Small and medium business owners have loads of responsibilities; most of them have to work for extended hours. This is especially due to improper time management; most of the tasks are redundant and simple yet complicated due to improper or inadequate measures of addressing them.
One of the most significant things that waste time is locating the paperwork. Unproductive prospecting is the most significant thing leading to the waste of time in sales. Just imagine who much more productive work a company can do if it addresses all these issues that otherwise prove detrimental.
Sales automation is one and an efficient way of addressing the problem with unproductive prospecting, i.e., trying to get sales from non-prospective customers. Making outbound calls to all prospective customers through automated means and registering their interest in a product can help the firm save on employing sales executive whom the firm would have to pay salaries even if they inconsistently lag behind their sales goals. 
Consolidating the past, existing, and future customers' data in one medium and being able to locate each of their details with a few clicks or taps is the best way to avoid wasting time. Therefore, CRM is the best solution to compile all the data related to sales, retentions, customer services, and so on in one place. 
CRM is a software program that helps you increase productivity and streamline all the business aspects. Hence, there is a steady and steep permeation of CRM in every type of business across all industries.
Here are some ways you can automate your business using CRM software.
1. Identify the processes that are worth automating
The automation of every aspect of the business is not a worthwhile decision. It can lead to financial loss and fetch less-valuable results. There are several things you can automate in a business, asthe ones follow.
Lead scoring 

Writing emails from templates

Sending emails for follow-ups

Lead assignment 

Soliciting leads

Following up on prospects

Creating reports in the dashboard

Scheduling appointments

Logging details of the outbound or inbound calls
Analyzing as to which all of these processes are helpful will help you ensure boosted productivity. The end goal is to give a sales boost; however, finding out the right goal will help you set smaller goals as follows.
Rate of conversion

Income: overall and boosted after a specific implementation

Up-selling revenue

Net promote score

Bell curve performance of employees across different departments
Some of the things like the Net promoter score and bell curve performance of employees are not useful for some firms that employ fewer persons and base more on automated processes.
Also Read: 70% Increase in Employee Productivity by Using AuroCRM
2. Encourage every employee to perform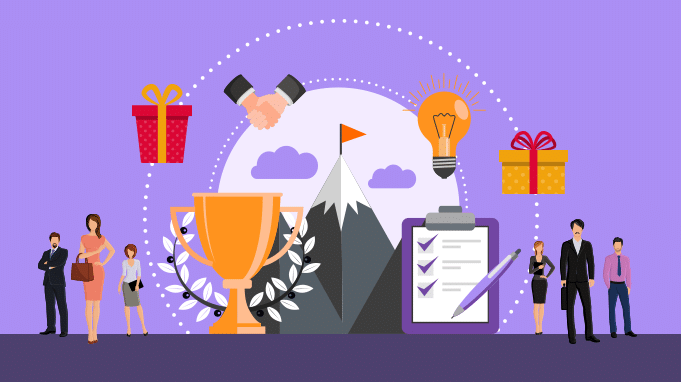 Every business is dependent on its employees. Each aspect such as customer services, sales, retentions, collections, marketing, or so needs each of its employees to work to the fullest of their capabilities. Having insights into one's achievements and finding ways to enhance the performances are the right ways of boosting performance.
The CRM is an all-encompassing software program that can help you find stats and check achievements over a certain period. You can sort the results depending on the right department and funnel them down to individual employees. Besides, the stats can help you quickly look for the highest performing employees from each department. 
Inspiring these employees further can help you maintain a steady performance and improve it further. These stats can be shared with other employees for setting examples too. Further, things like rewards and recognition will help you increase the morale of all employees.
3. Perform tests and audits 
With the ability to access every aspect of the business and analyze it empirically, and testing it in actuality, you can compile the data into test figures. It can help you find the data as to what were the contributors to the occasional ups and downs in the business during a specific time of the year. 
With analytics and statistics, you can also find out the current position of a particular department, the current position of the firm in the market, and so on. It can help you find the pattern of working on certain things that have brought out desirable productivity and output changes. 
The overall process and ability to analyze every aspect and find the right thing that works, and empirically put it across in figures can help you make your firm audit-proof.
Also Read: A Comprehensive Guide to Creating A Sales Funnel from Scratch
4. Improve on the individualistic level and, thus, on the holistic level
Using a CRM program that can help you manage every aspect of your business under one roof and streamlining every of your business's aspects gives you the key to managing your business on the micro level as well as macro level. 
A. Micro level
You can track each of your employee's performance and find the areas of improvement, i.e., the places where the employee needs more focus. It can help you find which department is performing on par with the business standards and which is not. 
You give the right feedback; use the right method for inspiring the employees. You can also know which department is worth spending time and money on and which can be outsourced or automated. 
B. Macro level
You can also make changes to the business, like bringing an overall change. Things like the implementation of a useful software program, making changes to the ways some aspects of the business work can work wonders in favor of the business. 
These things are possible with the help of an integrated software program like a CRM due to its highly analysis-orientated and testable nature. 
Conclusion:
Using a CRM program is one of the biggest changes that you can bring and see good results in no time. CRM can help you automate some of your business aspects like sales that increase productivity while significantly reducing the costs. With the ability to see all the stats and analytics, you can encourage better performance at each level and department. You can make your business highly competitive in the industry due to its audit-proof nature.