Real estate CRM is the current trend in real estate management. Many realtors are aware of customer relationship management's benefits and have adapted their business practices to maximize their advantages. 
A customer relationship management system comprises applications designed to optimize the interaction between a real estate sales team and customers. This interaction is maximized by providing a way for customers to interact with sales representatives and agents easily. An effective CRM system helps management systems to be open and updated to maximize customer satisfaction levels.
Many realtors are already using CRM for real estate and are seeing great results. A powerful CRM software works superbly well with ever-evolving technology and competition. 
Let's have a closer look at how CRM can benefit realtors and the similar types of companies out there:
1. Helps Manage the Leads & Contacts Better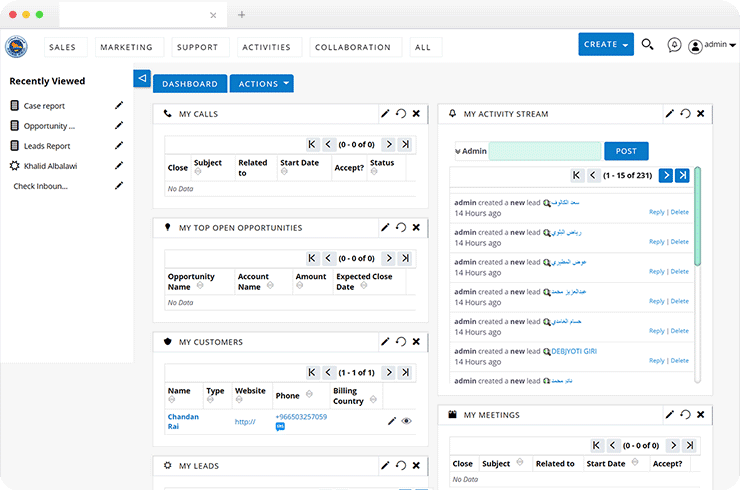 The system allows a realtor to manage his or her leads, contacts, and clients. The system must allow for a fast and efficient generation of leads and follow-ups. 
The system must also allow a realtor to generate relevant marketing reports based on leads and clients' interactions and follow-ups. The system must also allow realtors to build strong client relations.
2. Monitors and Manages Sales Processes
It helps realtors in monitoring sales processes and improving their efficiency. All transactions made by realtors during a day can be tracked. This means that sales managers will always have an idea about salespeople's progress and the progress of the company's business. 
The system can also give sales managers access to other vital data, such as market surveys. This way, realtors will always have useful information regarding the company's sales environment's current state.
3. Enhances the Overall Profitability of Business
Real estate companies can use this system to improve their services to potential and existing customers. A system that provides easy access to sales data and other pertinent information will make decision-making much easier for realtors. 
With this kind of system, realtors can also collect valuable feedback from their customers. Through this, they will be able to enhance their services and increase their sales. In turn, this will improve the overall profitability of the company.
Also Read: Tips to Automate Your Business Sales Using CRM Software
4. Helps in Saving Environment by Reducing Usage of Papers
Real estate companies will be able to reduce costs in several ways. One way is to eliminate the need for paper-based forms. By using a CRM system, agents will no longer have to fill out numerous forms. 
Instead, this system will provide agents with direct access to information relevant to the area of real estate they work in. This means agents will be able to manage leads more effectively, which will lead to higher productivity.
5. Represents a Better Picture of Company's Performance
Another advantage is to have an accurate picture of a company's operations. An integrated system will allow agents to get comprehensive reports about the business. 
These include sales reports, property assessments, inventory, liabilities, and other business-related data. These reports will then help business owners make informed decisions regarding their company.
6. Offers User-Friendly Solutions
A great thing about this type of software is that it is very user friendly. Most realtors will figure out how open source CRM works and figure out how to implement it within their firm. 
They will be able to go on websites and learn about how the various pieces of software work. In most cases, these websites will also provide step-by-step instructions on how to get the most out of the tool.
7. Saves Plenty of Time & Money
CRM business planning helps you to save a lot of time as well as money. This is because you will handle more clients and customers at once, without feeling like you are overwhelmed. This does indicate that you can spend more time focusing on building relationships instead of focusing on closing deals. Clients and customers are more likely to remain loyal to you when building good relationships with them.
With an efficient CRM system, you won't need to think of how you would sell your property or properties, how you would advertise your business, how you would schedule appointments, and who you would hire to work for you. So, by taking advantage of CRM software, you can free up a lot of your time to use other important things.
8. Helps in Making an Apt Use of Resources
Real estate agents get to deal with busy professionals trying to get the best deals for their clients. Today, the Internet is making this easier than ever. When someone wants to buy or sell a home, they do not want to worry about getting the assistance of anyone but themselves. 
They also want to stay in control of all of the details when they are trying to close a sale to know what is going on at all times. By taking advantage of all of the available resources online, realtors can make sure that they are keeping in control and can see everything that is going on in their market.
Also Read: Enhance Customer Retention Using CRM
9. Assists in Expanding the Business
When a realtor has access to all of the tools and information they need, it can be much easier for them to figure out an open-source CRM's functions. They can start to see which strategies work well for them and how they can use them to their advantage. 
This can give them away to expand their client base and to increase profits. Realtors can use all of this information to get more realtors jobs and to expand their businesses.
10. Elevates the Possibilities for Future Clients
Even if you don't have clients currently looking for a realtor, you may still increase their chances of having future clients with the help of real estate CRM. One way for this is to keep organized. 
By keeping track of contacts, appointments, and tasks for each particular client, you will be able to get more done & feel less overwhelmed. This is important for everyone in the business, and you want to make sure that your skills remain up to par for your clients to feel comfortable hiring you. 
Summing Up
Finally, a CRM for real estate agents' focuses on the business itself. Through this, realtors can easily see what their customers are buying. With this kind of system, business owners will also monitor the success or failure of their business. 
When a realtor has a good CRM system in place, they can easily maintain contact with all clients and do everything possible to offer the best deals for their properties. Having great connections and working well with clients will be a great edge for realtors and their businesses. With all these advantages, a CRM for agents outweighs any disadvantages that it may present.